Idén ünnepeljük Agatha Christie születésének 120. évfordulóját. Számtalan újrakiadás, újrafordítás, rendezvény és kapcsolódó könyv közül válogathatnak a rajongók, akiknek száma úgy tűnik, egyáltalán nem csökken az idő múlásával. Az évforduló alkalmából az írónő unokáját faggattuk.
 
Amennyire tudni lehet, Agatha Christie két dolgot tartott fontosnak az életben: a munkáját és a családját. Mennyire sikerült megosztania idejét életének két fele között?
Szigorú éves rendszer szerint élt, megszabott időszakokat tartott fenn az írásnak, a régészetnek és a családnak, és a zene, az olvasás és az evés mellett e három szenvedélyének szentelte minden idejét.
 
Azt tudjuk, hogy nem nagyon foglalkozott a kritikusokkal. A családtagok véleményére kíváncsi volt? Mielőtt kiadta kezéből az éppen aktuális könyvét, beszélgettek róla?
Előfordult, hogy felolvasott nekünk a műveiből, de olyasmire nem emlékszem, hogy valaha is kikérte volna a véleményünket. Rendkívül fontosnak tartotta a könyvek minőségét, de ezt a saját feladatának tekintette, nem a miénknek.
 
Az tudjuk, hogy az írónő büszke volt süteményeire. Ezek a receptek mennyire képezik részét a családi örökségnek, gyakran kerülnek az asztalra?
Imádott enni, ám igencsak kevés időt tudott szakítani a főzésre, én viszont sosem sütök süteményt – cukorbeteg vagyok.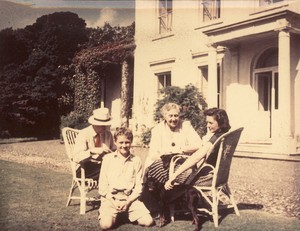 Mi a legkedvesebb élménye a nagymamájáról?
Dartmoorban ültünk egy szőnyeg alatt, almát majszoltunk és egy könyvet olvastunk.
 
Kevesen mondhatják el magukról, hogy nyolcadik születésnapjukra színdarabot kaptak ajándékba. Agatha Christie mindig ilyen nagylelkű volt a családtagjaival?
Igen, és jótékonysági célokból is. Nemcsak a pénzzel bánt nagylelkűen, hanem az idejével és az odafigyeléssel is – ez utóbbi volt a legfontosabb.
 
2003-ban egy elfeledett színdarab (The Secret of Chimneys), 2009-ben pedig Poirot novellák kerültek elő. Elképzelhetőnek tartja, hogy előkerülnek még eddig ismeretlen darabjai az életműnek?
Nem.
 
Ha jól tudom, 2000-ben a National Trust-nak (angol szervezet, ami a történelmi jelentőségű helyekre, épületekre felügyel) adományozták Christie devoni házát (Greenway). Mennyire vált kedvelt zarándokhellyé a rajongók körében?
Igen – 2009-ben 99 ezren látogattak el Greenwaybe, 2010-ben pedig ez idáig 87 ezren.
 
Az Agatha Christie Limited elnökeként mennyire van beleszólása a nem nyomtatott feldolgozások létrejöttébe? Gondolok itt például arra, hogy ki játssza Poirot szerepét a tévésorozatban, mennyire értelmezzék újra valamelyik színdarabot?

Igen, habár az én szavam csupán egy a sok közül. Úgy vélem, David Suchet nagyszerű és bejáratott Poirot. Szerintem a feldolgozások lényege, hogy a Christie-rajongók különböző csoportjai közül mindegyiknek adjanak valamit.
 
Melyik a kedvenc Christie könyve és szereplője?


Az Örök éj című könyv / Miss Marple.
 
Az köztudott, hogy a hanglemezipar nem boldogul az illegális zeneletöltésekkel, kalózkiadásokkal. Mi a helyzet a könyvkiadásban, léteznek illegálisan megjelent könyvek? Mennyire lát lehetőséget és veszélyt az e-book formátumban?
Valóban létezik irodalmi kalózkodás, de nem olyan mértékben, mint a zenében. Az e-könyekről úgy vélem, egyszerre jelentenek esélyt és kihívást (pl. hogyan lehet megőrizni a birtoklás érzetét és egy könyv fizikai jelenlétét?).
 
Annyi híres vagy kevésbé híres emberről készült már életrajzi film. Mikorra várható egy hiteles, tényekre épülő mozi Agatha Christie életéről?
A nem túl távoli jövőben.
 
Meglepett, amikor olvastam, hogy az Angliában népszerű, Magyarországon viszonylag ismeretlen tévésorozat, a Doctor Who egyik epizódja (The Unicorn and the Wasp) Agatha Christie-hez kapcsolódik. Ez kinek az ötlete volt, és mit szól a megvalósításhoz?
A BBC-é. Úgy hiszem, igencsak figyelmes és tiszteletteljes gesztus volt ez felé.
 
Agatha Christie életműve nyilvánvalóan beépült a hétköznapokba, hiszen számítógépes játéktól kezdve anime sorozatig minden készült már belőle. Látta már az Euro Comics India képregény-sorozatát (François Riviere és társai)? Ha igen, mi a véleménye róla?
Nem (sajnálom).

 
Magyarul idén jelent meg a legújabb Christie életrajz Jared Cade tollából. Mesélne a könyv létrejöttéről?
Attól tartok, nem tartozik a kedvenc könyveim közé.
 
Mennyire érzi teljesnek az Agatha Christie and the Eleven Missing Days című könyvet?
Egyáltalán nem teljes.
 
Ön szerint mi lehet az oka annak, hogy Agatha Christie pályatársai közül senki nem olyan népszerű, mint ő?
Páratlan intuícióval ráérzett arra, mi tetszik az embereknek, varázslatos érzéke volt a titokzatossághoz és a cselekménybonyolításhoz, az alakjai pedig máig elevenek. Ezen kívül saját egyéniségének bizonyos aspektusai, például a szerénysége, a humorérzéke és türelme szintén megjelennek a könyveiben. És nem utolsó sorban zseni volt!

Fotó: The Christie Archives Trust
Galgóczi Tamás - 2010. november 26.