Muhary Zalán 2012 őszén mutatkozott be a Historium Kiadó szerzőjeként és a magyar irodalmi élet teljesen új szereplőjeként (neve sem korábban megjelent novellákhoz, sem irodalmi pályázatokhoz nem köthető). Első és eddigi egyetlen könyve, az Egy tucat esztendő a dicsőséges egri barokk utolsó éveit mutatja be, és érdekes módon a könyv valódi főszereplője sem annyira egy ember, mint inkább maga Eger és a korszak. Muhary hihetetlen alapossággal vezet végig minket a barokk utcákon és épületeken, visz fel minket a legmagasabb toronyba, és olykor le a föld alá, hogy bemutassa a XVIII. század végének orvoslását, politikai vitáit és egyházi intrikáit. A szerző a legenda szerint nemrég múlt 120 éves. Vele beszélgettünk.
 
Kezdjük talán az elején: kicsoda Muhary Zalán, és hogyan született meg?
 
Igen, a szerző – a legenda szerint – 1892-ben született, méghozzá azért, hogy rátaláljon az 1700-as évek második felében, Egerben élt dédnagyapja naplójára. Így ők ketten, vagyis Markhot doktor segédje, a chirugus Muhary József és dédunokája, az író együtt mutatják be azt a tizenkét esztendőt, ami Európa-szerte hasonlóan viharosan zajlott, mint a kétszáz évvel későbbi Közép-Kelet Európa történései. De ehhez meg kellett festeni a sebészmester kitalált személyét, és útnak indítani az egri utcákon, tereken, a kitalált dédunoka pedig kommentálja, kiegészíti ezt a naplót.
 
Talán már nem titok, hogy ön orvosként dolgozik Egerben. Milyen hatásra kezd el egy orvos történelmi regényt írni? Voltak már régebben is irodalmi próbálkozásai?
 
Az orvosi munka roppant szigorral követeli meg, hogy az ember a tények, vagyis a kórelőzmény, a tünetek és a vizsgálati eredmények alapján objektív diagnózist, kezelési tervet állítson fel. Ebben nincs helye a fikciónak, fantáziálásnak, még ha bizonyos helyzetekben szükség is van az intuícióira. A filmművészet, a zene vagy éppen az írás – amivel egyébként több egri orvoskollégám is foglalkozik – egészen más, olyan tevékenység – ellentétben az orvosi munkával –, amikor elszabadulhat az ember fantáziája. Sőt nemcsak elszabadulhat, hanem kell is, hogy szárnyaljon. Ez a szabadság rendkívül vonzó egy orvos számára, szigorúan a munkáján kívül. Korábban mindössze saját magam számára írogattam, ez az első olyan nagyobb lélegzetvételű mű, ami a nagyérdemű érdeklődésére is számot tarthat.
 
Ön ott él Egerben, karnyújtásnyira a regényben is szereplő helyszínektől. Ez megkönnyítette a dolgát, vagy ennek ellenére is nehéz volt a kutatómunka?
 
Nemcsak megkönnyítette, hanem ez volt az, ami inspirált, segített. Ha nem itt élek, ha nem itt mozgok, talán soha nem fogtam volna hozzá ehhez a könyvhöz. Eger nemcsak gyönyörű város, de a helyszínei rendkívüli módon megmozgatják az ember képzelőerejét, és ezzel nemcsak az egri várra gondolok, hanem a számtalan belvárosi műemléképületre. Ha pedig valaki orvosként rendszeresen azon a folyosón jön-megy, ahol közel háromszáz éve az irgalmas rendi szerzetesek, vagy kétszázötven éve Markhot Ferenc orvosdoktor, akkor adott a légkör, adott a téma. Ezzel persze nem lehet megspórolni a kutatómunkát, ami szükséges a hiteles háttér felfestéséhez, még ha fiktív szereplők mozognak, és fiktív események zajlanak is.
 
A 312 oldalas könyvben összesen 241 lábjegyzet szerepel, ami egy elég tekintélyes mennyiség. Ennyire fontosnak tartotta, hogy az utolsó szalmaszálig bemutassa ezt a kort az olvasóinak?
 
A lábjegyzetekkel semmiképpen sem volt célom hitelesíteni a fiktív részleteket, és a tényszerű bemutatás is csak kevésbé fontos számomra. A lényeg inkább az, hogy felhívjam a figyelmet a történelmi és helyi érdekességekre. Így a történelmi korban jártas és járatlan olvasó is fel tudja idézni korábbi ismereteit. Most, hogy már több olvasótól kaptam visszajelzéseket, véleményeket, a lábjegyzetek számát megnyirbálnám. Inkább a könyv mellékleteként tárgyalnám, mint "egy sör mellett" idézném fel az érdekességeket. Talán, ha egyszer megérik egy újabb kiadás…
 
 
Mennyire tudatos, hogy a könyv olyan témákat is feszeget, amelyek eddig magyar nyelvű szépirodalmi műben nem igazán szerepeltek?
 
Teljes mértékben ez volt a célom. Ha nem szerettem volna Markhot Ferenc orvosdoktor és Eszterházy Károly püspök személyét legendává emelni, vagy a habánok, hutteriták hitét bemutatni, akkor a könyv az asztalfiókban vagy éppen a fejemben maradt volna. Markhot nevét az egri kórház alapján azonosítják. Szeretném, ha a regény olvasása után az emberek az egri Minaret mellett szerényen meghúzódó, közel 300 éves kórházat is felfedeznék. Annak is örülnék, ha Eszterházy nevét nemcsak az igen színvonalas és kiváló egri felsőoktatási intézmény kapcsán emlegetnék, hanem személyét az általam felfestett, noha fiktív, mégis megnyerő érzelmei is közelebb hoznák a ma emberéhez.
A habánokról pedig keveset hallani, inkább csak a művészettörténészek számára érdekesek a kerámiáik miatt. Holott több évszázados történelmük rendkívül izgalmas. S bár a regénybeli egri események szintén a képzelet szüleményei, azok jól bemutatják a helyzetüket a XVIII. századi Ausztriában és Magyarországon. Hitük, kitartásuk jutalma az, hogy ma is élnek kolóniákban az észak-amerikai kontinensen, hutteriták néven. A barokk-kori regény lapjain fiktív szereplőkként elevenednek meg, így a könyvben tulajdonképpen egri szereplők játszanak el egy Európa-szerte akkoriban meglévő jelenséget.
 
Sok szó esett a könyv fiktív elemeiről. Miért tartotta szükségesnek ezeket a kiegészítéseket? Nem volt elég izgalmas a korszak?
 
A korszak önmagában is izgalmas, de még érdekesebbé tehető, ha az ember elképzeli, milyen lett volna, ha… Mi történt volna, ha a toronyból kizuhanó minorita szerzetes halála fontossá válik még a császár számára is? Milyen lett volna, ha én akkor ott vagyok Markhot doktor segédjeként, és naplót vezetek? Hogyan éltem volna mindezt át? Hasonlóképpen elgondolkodtató az ellenkezője is: milyen lenne, ha a könyv szereplői és eseményei ma játszódnának? A könyvben ugyanis olvasunk országgyűlésről, közbeszerzési eljárásról, privatizációról, államosításról, a közigazgatás átszervezéséről. Ezek, bár a könyvben az 1700-as évek végén történnek, mégis hordoznak mai üzeneteket. Az események egy részét – bevallom – nem a történelemkönyvekből, hanem a mai életből vettem, csak XVIII. századi "jelmezbe" öltöztettem. Az orvosi esetek pedig éppen azért lehetnek hitelesek, mert ma is jól ismert, valós betegségeket, tüneteket mutatnak be, csak éppen pár száz évvel korábban.
 
Melyik a kedvenc, Egerben játszódó, vagy Egerrel foglalkozó könyve, mely esetleg az ön regényére is kihatott?
 
Természetesen nagyon szeretem Gárdonyit és az Egri csillagokat, ám ez mégis paradox módon hatott a könyvem megírására. Az egri Gárdonyi kultusz az elmúlt néhány évtizedben tetőfokára hágott, és jelenleg is az Egri csillagok a legfontosabb irodalmi alkotás a város életében – ez nem kérdéses. De éppen ezért – úgy vélem – kissé háttérbe szorul a város más korszakainak bemutatása. Történelmi regény a barokk korszakban alig érinti Egert. Bár Bródy Sándor Az egri diákok című ifjúsági regénye Egerben játszódik, azonban 60 évvel később; Mikszáth Különös házasságában a per, a híres Buttler pör Pyrker érsek idejében itt zajlik, ami szintén már a XIX. század. Kriston Béla A megszállott című műve ugyan éppen Fazola Henrikről – a kor híres fémműveséről – mesél, de ő sem foglalja össze a kort, nem néz mélyebben a korszak érdekességeibe. Igazából Jókai Rab Rábyja hívta fel a figyelmemet a jozefinizmus (II. József császár belpolitikája) időszakának különleges voltára, ugyanakkor az Egy tucat esztendő végén, az ajánlott irodalomban szereplő könyvek voltak azok, amelyek felnyitották a szememet arra, hogy Eger XVIII. századi történelmének vége ezzel összefügg. Az általam ajánlott történelmi, helytörténeti könyvek szerzői kiváló egri történészek, hogy csak néhányukat említsem: Breznay Imre, Csiffáry Gergely… A teljes listát hosszú lenne végigsorolni.
 
Hogyan, illetve kinek ajánlaná az Egy tucat esztendőt? Van egy meghatározott célközönsége?
 
A témaválasztás alapján úgy tűnhet, hogy a korabeli orvoslás iránt érdeklődők, a barokk kedvelői és az egriek a célközönség, de ez nem igaz. Jóval szélesebb olvasótábornak ajánlom a művet, hiszen tele van az említett, XX. és XXI. századi áthallással, orvostörténeti érdekességgel. Ráadásul van benne egy kis krimi, néhány rejtély és olyan izgalmak, amitől bárki számára színesen elevenedik meg a korabeli Eger. Nyitott kérdéseket is hagytam benne azok számára, akik szeretik a kirakósdit: hány gyémánt került Egerbe a francia királyné nyakékéből? Ki volt Hajnóczy társa, a sasorrú ferences szerzetes?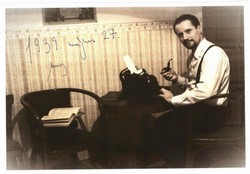 Vannak-e távlati tervei az írással, vagy az Egy tucat esztendő egy afféle "egy könyv" volt, amely kikívánkozott önből?
 
Ahogy korábban szó volt róla, elsősorban orvos vagyok, családapa, és egy keresztény közösségben szolgálok. Második helyen áll az olvasás, ami nélkül nem lehet írni. Úgyhogy maga az írás számomra bár dobogós, mégiscsak a harmadik helyezett. Ennek megfelelően bizony időre lesz szükség a terveimben szereplő, két világháború között játszódó regényhez. De nem véletlen, hogy a legenda szerint Muhary Zalán 1939-ben fejezte be az Egy tucat esztendőt. Fölötte is elszaladt egri életének legalább két tucat esztendeje – a legenda szerint…
 
Muhary Zalán elég ritkán szerepel közönség előtt, eddig összesen két alkalommal lépett a nagyérdemű elé, és mindkétszer a felvidéki Dunaszerdahelyen. Hol találkozhat önnel legközelebb az olvasóközönség?
 
Egriként szeretném az egrieknek is személyesen ajánlani a könyvet, ami a Bródy Sándor Könyvtárban fog megtörténni, 2013. március 21-én, az olvasóteremben. Ott Guti Rita egri újságírónővel és Bíró Szabolccsal, a Historium Kiadó vezetőjével fogunk közösen beszélgetni a korabeli orvoslásról, a regény néhány kulisszatitkáról, és ehhez kapcsolódó érdekességekről.
Sebők Zsófia - 2013. február 26.